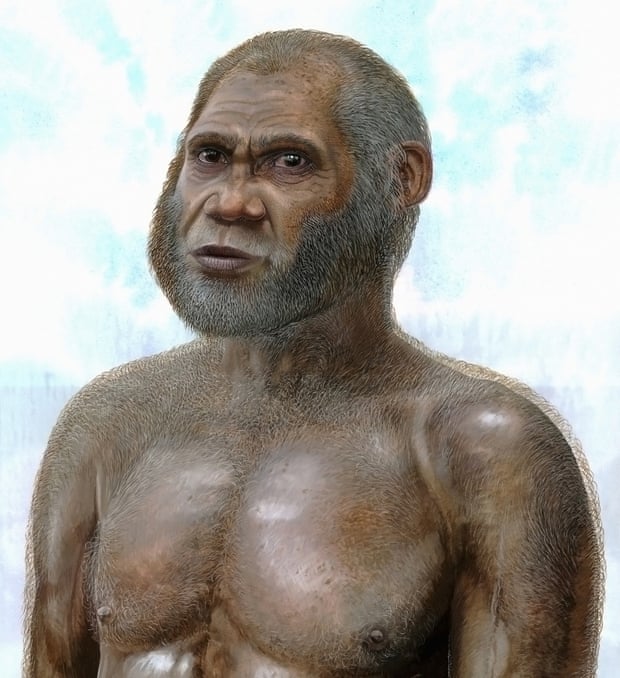 1/2. An artist's reconstruction of a Red Deer Cave man. Photograph: Peter Schouten
University of New South Wales. A thigh bone found in China suggests an ancient species of human thought to be long extinct may have survived until as recently as the end of the last Ice Age.
The 14,000 year old bone—found among the remains of China's enigmatic 'Red Deer Cave people'—has been shown to have features that resemble those of some of the most ancient members of the human genus, (Homo), despite its young age.
The discovery was made by a joint team led by Associate Professor Darren Curnoe from UNSW Australia (The University of New South Wales) and Professor Ji Xueping from the Yunnan Institute of Cultural Relics and Archaeology (YICRA, China).
Their study is published today
in the journal PLOS ONE.
The findings result from a detailed study of the partial femur, which had lain unstudied for more than a quarter of a century in a museum in southeastern Yunnan, following its excavation along with other fossilised remains from Maludong ('Red Deer Cave') in 1989.
The investigators found that the thigh bone matched those from species like Homo habilis and early Homo erectus that lived more than 1.5 million years ago but are cautious about its identity.
"Its young age suggests the possibility that primitive-looking humans could have survived until very late in our evolution, but we need to careful as it is just one bone," Professor Ji said. [...]
phys.org
/
Link 2
(Via B&W3)
Actualización
:
Un hueso olvidado durante 25 años apunta a una especie humana desconocida
En 1989 se desenterraron los restos de los hombres de la Cueva del Ciervo Rojo, en China. 25 años después, el análisis de uno de sus fémures ha revelado que fueron una especie fuera de su época.
Recibieron el poético nombre de hombres de la cueva del ciervo rojo porque el lugar donde se hallaron reveló que cazaban y cocinaban grandes ciervos para comer. Tenían la cara más plana que la nuestra, con una nariz ancha y una mandíbula prominente y sin barbilla, grandes muelas y unas cejas muy marcadas en una cabeza con un cráneo muy grueso y un cerebro de tamaño mediano.
Hallados en la provincia de Yunnan, en China, los fósiles de Maludong fueron desenterrados por arqueólogos chinos a finales de los años 80. Los estudios preliminares determinaron que tenían unos 14.000 años de antigüedad y que seguramente pertenecían a una especie separada de los humanos actuales, que se habría extinguido sin que su genética perviviese hasta nuestros días.
Después de eso, los huesos llegaron a un museo arqueológico local donde quedaron olvidados durante veinticinco años en los que nadie volvió a prestarles demasiada atención. Ahora, una investigación conjunta de científicos chinos y australianos, que se publica hoy en la revista PLOS One, ha revelado que esos restos olvidados durante un cuarto de siglo podrían pertenecer a una nueva especie de humanos premodernos que vivieron en esta región aislada hasta mucho más tarde de lo que se creía, llegando a convivir durante miles de años con otras especies más evolucionadas y cercanas a nosotros...